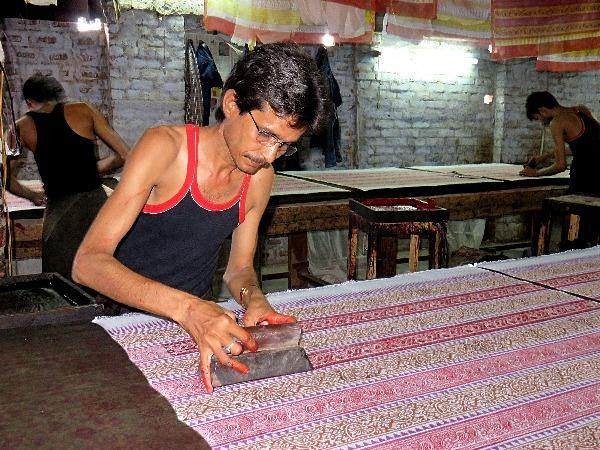 Radiance of rajasthan's hand block printing
City whose name brings joy and art brings color to our homes, makes you fall in love with itself again and again. And you promise yourself to return to this beautiful pink city again. Yes, of course, it is Jaipur.

Though i have visited this place numerous times, but this time i was visiting the city with a very different outlook. This time i was keen to meet the real craftsmen who have given this city its own distinctiveness.

The markets like Bapu Bazaar, Nehru Bazaar leave you awestruck, splashing the colorful Hand Block textiles. And because of my special fondness for Block Prints, i decided to visit the hub of Block Print near Jaipur, known as Sanganer.

Block Printing is actually a printing of the textiles namely cotton, linen or silk using incised wooden blocks and it is a very ancient Indian Textile tradition which has been kept alive by the villages of the Rajasthan. And it has been passed on from generation to generation without any formal training.

Sanganeri Block Printing reached its pinnacle in 16th and 17th century, when most of the Europe was enthralled by its grandeur and it became one of the major exports by East India Company.

This spellbound art requires an adept craftsmanship because it involves so many intricacies like placement of motifs, optimum amount of application pressure while printing and so on. The fabric that needs to be printed, is pinned over the table with equal amount of tension from all sides, without any ripples. These are some of the salient steps that can't be compromised.

Printing is done block by block, moving from left to right. A single block is used to fill one color. So to create one motif, karigar has to use many blocks depending upon the number of colors that motif has. Thus, its a very slow process yielding very low production.

Alternatively, the Screen Printing method has also started gaining its ground nowadays. Here, the screens are used instead of blocks and is much more faster than the Hand Block printing.

The Dyes used are either non-toxic chemical dyes or natural/vegetable dyes.

The two famous types of Block Printing done in Rajasthan are Sanganeri, which is done on white background and the other one is Bagru, which is done on black and red background. Bagru is famous for its Syahi- Begar and Dabu prints.

Sanganeri Printing has floral motifs and some of the flowers used in the prints are roses, rosettes, lotuses, lotus bud, sunflower, lily, champa, canna, nergis, marigold etc

After learning about the nitty-gritty s of Block Printing, you are bound to have an immense reverence for this art.

The Hand Block printing art makes us indebted to the mother nature, at the same time makes us ponder if we are doing our bit in protecting this art before it gets lost forever. You start cherishing this art as it reflects the touch of a human hand with IndicHues.