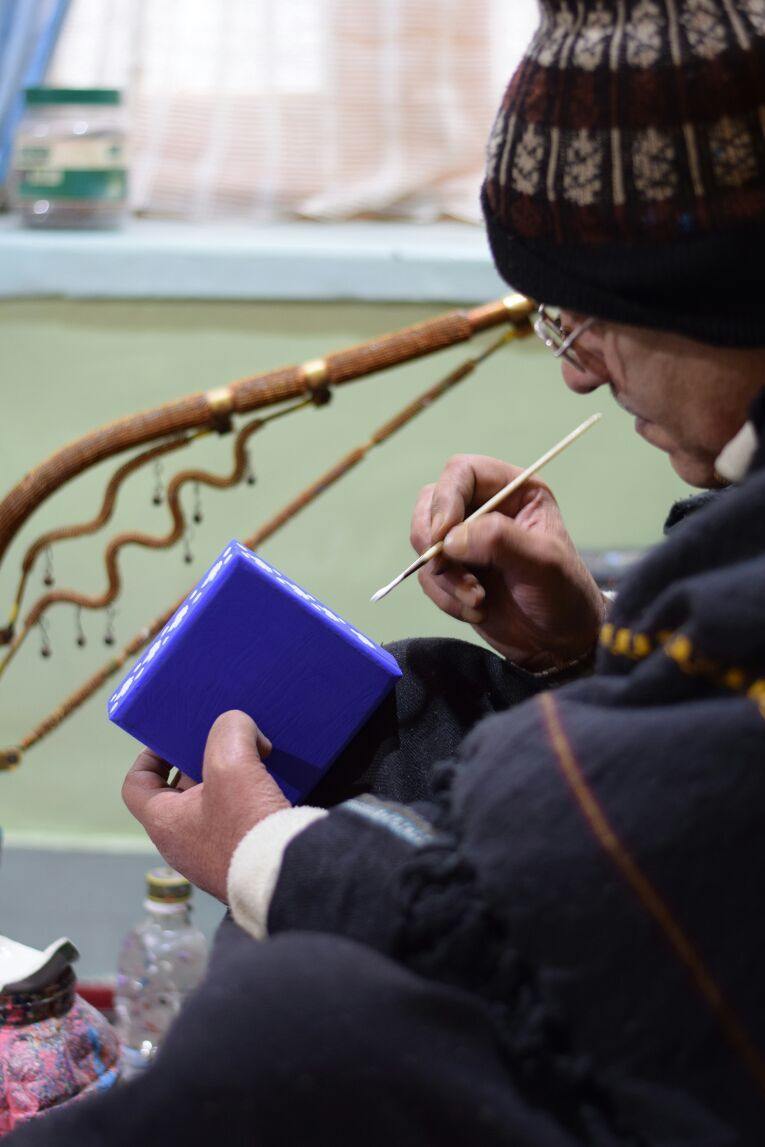 Journey of a Paper Machie
When the summer is at peak with mercury going beyond 40 degree Celsius in most parts of India, there are still few places where we all want to rush and ditch this scorching sun. And it is beyond doubt we all think of running towards hills. Hills??? And our thoughts immediately take us to the valley of Kashmir.

Nobody can afford to ignore this place with breathtaking gardens, splendid view of dal lake brimming with houseboats and shikaras. There must be something compelling that people still flock this place amidst all chaos. These are the true wanderers. Be its natural beauty or its art or cuisine, the place still exists in our minds in spite of all the mayhem. The moment the art is mentioned, our mind starts crisscrossing with pictures of beautifully embroidered shawls.

But this place is known for other art forms as well, which perhaps most of us don't know. Yes, its intricately carved wooden artifacts like bowls and trays using walnut wood, but today i am going to introduce you to another very precious art form which is known as "Paper Machie" which means mashed paper. Surprised??? Yes, the paper is soaked, mashed and goes through a tedious process of the sakhtsazi (making the object) and the naqashi (painting the surface) before it reaches the market. This handicraft arrived in Kashmir from Persia (which includes modern day countries like Iran, Afghanistan and few more) in 15th century. And since then it has become a part of the cultural identity of this place.

It is one of those rare art forms which is getting vanished with the time. Though there are still few artisans who have kept this art alive but let's not wait for it to get completely wiped out from the existence. But i think there are still few connoisseurs of this art, who are giving hope to the artisans and who long to get these art pieces to illuminate their abode. This art form is deeply revered in Europe and few other countries. So are we not supposed to preserve something which belongs to our country?

How can i finish this blog without divulging few more details about this art? As by now, you must have understood that this handicraft is basically made using paper but nowadays even wood or steel is also being used as a base on which the painting is done. So you see, how even the art evolves with the time.

Apart from jewelry boxes, wall plates, bowls, vases, figurines, there are so many products that get created using this technique. Some of the older designs involved intricate painting of kingfishers, maple leaves and other designs, such as Gulander Gul (flower in flower), Hazara (the thousand flowers), Gul Vilayat (the dear flower), Miniature Mughal painting, Mythological figures, Animals Hunting scenes and Battle Scenes.

IndicHues invites you to spend sometime visiting their Paper Mache collection.

By:- Ruchi