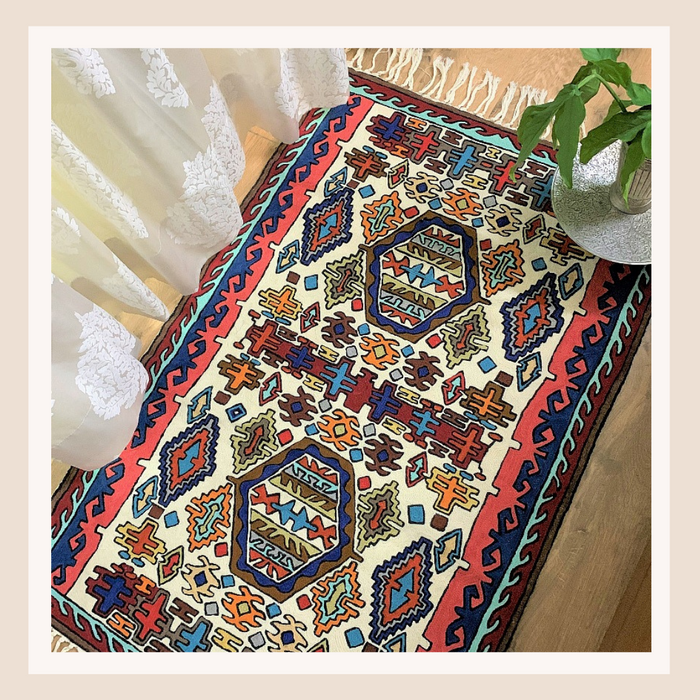 IndicHues Crewel Embroidered With Wool Thread Rug From Kashmir
(Inclusive of all taxes)
Country of Origin: India
 Description:- Leave your guests in awe with your classic home decor styling with this stunning hand embroidered crewel work rug.  Crafted with immense intricacy by artisans from Kashmir.
The Crewel Embroidery has rich history of thousands of years. The word "crewel" is an old word that refers to the yarn itself, a two-ply wool yarn.
This Embroidery is usually done on a closely woven ground fabric, typically linen or cotton. A firm fabric is required to support the weight of the stitching and is done using a hook called as Aari and 1 ply or 2 ply wool yarn is used for embroidery patterns. But for some high end work, the silk thread is also used for embroidery. The base fabric is generally thick cotton canvas but even linen, velvet and organza is also used as a fabric material.
Craft
:- Crewel Embroidery
Region
:- Jammu and Kashmir
Color
:- Multi color
Material
:- Cotton with wool thread embroidery
Dimensions:-
LxB= 114 cm x 74 cm  // wool
Weight
:- 820  
Grams
Package contents
:- 1 Rectangular Rug
Country of Origin:- India
Usage:-
Add warmth and character to hallway and corridors, so they don't become dead spaces.
Can be used a bedside rug especially in winters to insulate a person's feet from a cold tile or concrete floor, making a room more comfortable.
Can be used a prayer rug.
Perfect Gift for Housewarming/Anniversaries/Birthdays / for all occasions.
Care Instructions:-
Dry Clean only
Do not use bleach or some hard detergent/chemical.
Shipping Information:-
Dispatched in 2-3 business days.
This product will be delivered to you within 7-8 business days.
"IndicHues" delivers across India and assures the use of the best possible transport/courier agencies to deliver your product.
Sourced from:- Kashmir
Marketed/Packed By :- IndicHues (Brand name), Mystaw Creations LLP, Mahagun Mascot, #802, Vasto, Crossings Republik, Ghaziabad, Uttar Pradesh 201016, Phone: 070424 09802, Email:- customercare@indichues.com

Returns and Cancellations:- 
Products are eligible for return within 7 days of receiving the merchandise.
 In the unlikely event that your order arrives damaged, you need to Email Us with a photo image of the damaged product within 48 hours of receiving your order. We request you to follow the following structure in the email to help us serve you promptly. Subject should be RETURN in the email. Include your name, Order number, pick-up address and reason for return. Our Email id is customercare@indichues.com
 For the return, you will have to place a return request and ship the parcel back to us through Indian Postal service(Speed Post).
Send us the screenshot of the receipt and we will refund your money for the speedpost. And once we receive the parcel, we will refund your money for the product after inspecting it.
Customer will have to bear the return shipping charges incase of any item picked during SALE / OFFER/ DISCOUNTED RATE. We are already giving you Free Shipping Across India above Rs 1500/- bill value.
Return Address:- IndicHues, #802, Vasto,Mahagun Mascot, Crossing Republik, Ghaziabad,201016. Phone- 7042409802

Note:- Kindly check the Return and Refund Policy for the detailed information on the website footer section. Link Shared below for reference.
Customer Redressal

At IndicHues, we are committed to highest levels of customer experience. You can contact us via:-
Email:- customercare@indichues.com
Phone:- 7042409802
Address :- IndicHues (Brand name), Mystaw Creations LLP, Mahagun Mascot, #802, Vasto, Crossings Republik, Ghaziabad, Uttar Pradesh 201016

Grievance Officer
Ruchi
Mystaw Creations LLP, Mahagun Mascot, #802, Vasto, Crossings Republik, Ghaziabad, Uttar Pradesh 201016
customercare@indichues.com , 7042409802